Colehill First School Welcomes Langside School Visitors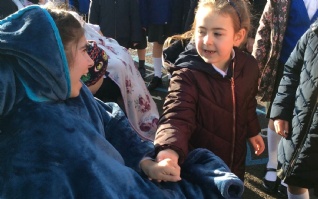 On Wednesday 29 January, three pupils and four staff from Langside School joined Colehill First School for a shared music assembly, a playtime and a communication session with year 3 and 4 pupils.
Langside is a Poole-based, charity-run special school for pupils aged 2 to 19 with profound and multiple learning disabilities and complex medical needs. Colehill pupils enjoyed meeting and communicating with Langside children, and learned about how to sign and use communication switches.
This is the first of a termly pattern of visits between the two schools.