Song Share With Hayeswood First School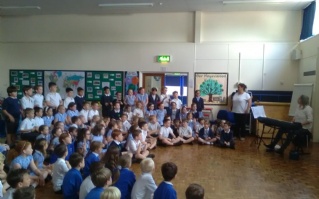 On the 23rd May KS2 students from Hayeswood and Colehill joined together to perform some of the songs they have been learning this year. Songs shared included 'All You Need is Love', 'I Am The Earth' and 'A Million Dreams'.
The schools were joined by Liz Radford, who has provided music sessions for all the children. Both schools enjoyed singing and listening to each other's songs. This is the first joint musical event between both schools, and it was a great success!
For more images, click here